U135 mining coal and rock picks, conical picks of JZA80/38 series heading machine. This pick is produced by Shandong AID Industrial Co., Ltd. It is a cutting tool in the heading machine for breaking rock and falling coal directly, and it is mainly used for drilling coal mines and soft rocks and cutting tunnels, ditches and open pit mines. It is generlly installed on the matching cutting head (gun head) of the heading machine together with the U135 pick box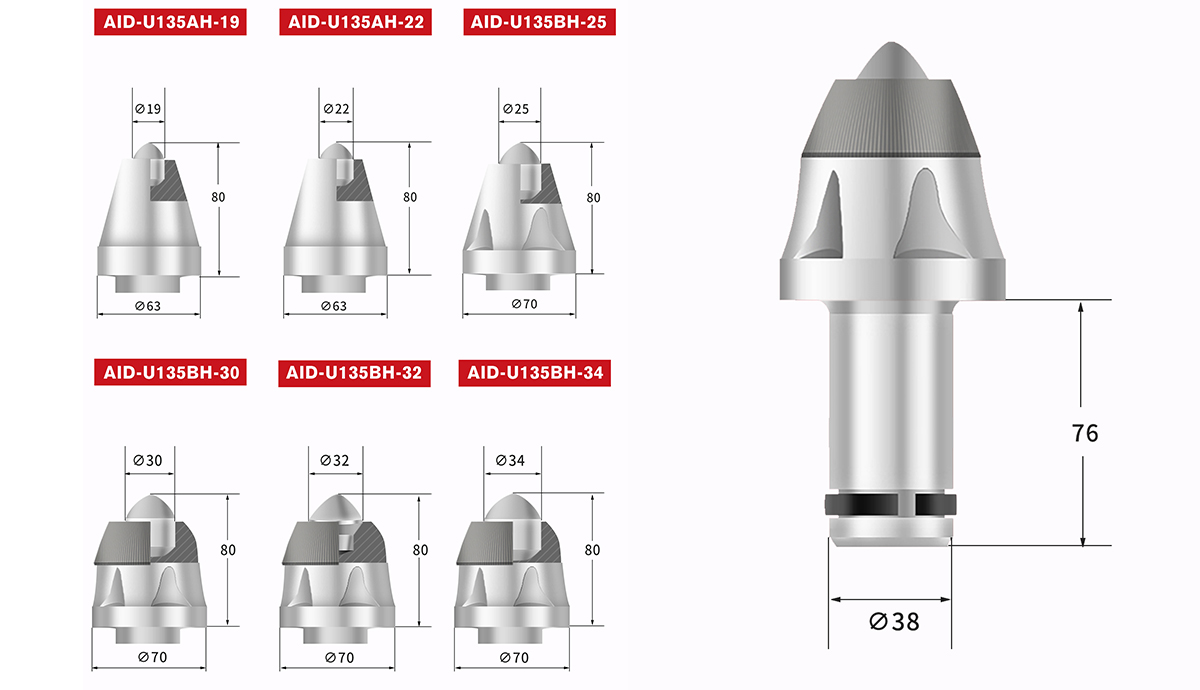 Appearance of cutting picks
◆ Fullness of weld joint: The filling degrees in weld joints exceed 95% and no slices fall. There are no pores, impurities, and traces of machining in the weld joints, and the geometric dimensions of batch products are consistent.
◆ Crack inspection: There are no cracks in the welding joint area of the U135 pick and the joint surface of the solder and the base metal, and no crack may appear at the carbide head.
◆ Surface appearance: The surface of U135 pick body is smooth and flat without visible cracks, folds, dents and other defects, and anti-rust treatment are processed on the surface of the pick body.
◆ Petal-shaped pick shoulder: The pick shoulder is made into a petal shape, which can increase the spin force and make the pick wear evenly, prolonging its life.
Materials of cutting picks
◆ Alloy: Hard tungsten-cobalt alloy of international premium brands
◆ Soldering piece: Tungsten carbide from the United States
◆ Gear shank: 42GrMo and 42GrMoA of well-known brands. This steel has no temper brittleness, which is of high fatigue limit and multiple impact resistance after modulation.
◆ Circlip: The pick circlips are all made of high-strength spring steel, which is of excellent wear resistance, and can provide reliable holding force, reduce the costs of pick consumption and improve the effective working time of the heading machine.
Advantages of cutting picks
◆ Long service life: It is 1.5 to 2.5 times of U135 pick of the same brand, and its working efficiency is 2.5 times of U135 pick of the same brand.
◆ No sparks: It helps to produce safely and does not generate high-temperature sparks.
◆ Corrosion resistance: It can effectively resist the corrosive working environment, and the picks do not generate high-temperature sparks during the operation process.
◆ High wear resistance: The wear resistance of U135 pick is much higher than that of domestic brands, reaching the level of imported picks.
◆ Strong impact resistance: The impact resistance of the pick is much higher than that of similar brands, and it is exported to the United States, Turkey and other countries.